Newsletter Door County Events Section 2
Newsletter Door County Events Section 2
The key to preventing moldy berries...
Berries are delicious, but they're also kind of delicate. Raspberries in particular seem like they can mold before you even get them home from the market. There's nothing more tragic than paying $4 for a pint of local raspberries, only to look in the fridge the next day and find that fuzzy mold growing on their insides.
Well, we can tell you how to keep them fresh! Here's a tip I'm sharing on how to prevent them from getting there in the first place:
Wash them with vinegar.

When you get your berries home, prepare a mixture of one part vinegar (white or apple cider probably work best) and ten parts water. Dump the berries into the mixture and swirl around. Drain, rinse if you want (though the mixture is so diluted you can't taste the vinegar,) and pop in the fridge. The vinegar kills any mold spores and other bacteria that might be on the surface of the fruit, and voila! Raspberries will last a week or more, and strawberries go almost two weeks without getting moldy and soft. So go forth and stock up on those pricey little gems, knowing they'll stay fresh as long as it takes you to eat them. You're so "berry" welcome!
-Received from my friend,
Betty Nimphius
HERE'S WHAT'S HAPPENING IN DOOR COUNTY THIS MONTH...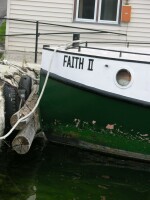 DOOR COUNTY FAIR
Location: John Miles County Park in Sturgeon Bay
Date: 08/01/2012 - 08/05/2012
DETAILS!
CHERRY FEST
Location: Lakeside Park in Jacksonport
Date: 08/04/2012
DETAILS!
CLASSIC AND WOODEN BOAT FESTIVAL
Location: Door County Maritime Museum in Sturgeon Bay
Date: 08/04/2012 - 08/05/2012
DETAILS!
PENINSULA MUSIC FESTIVAL
Location: Door Community Auditorium in Fish Creek
Date: 08/07/2012 - 08/25/2012
DETAILS!
DOOR COUNTY FESTIVAL OF THE ARTS
Location: Waterfront Park in Sister Bay
Date: 08/11/2012
DETAILS!
VALMY THRESHEREE & ANTIQUE SHOW
Location: Northeast Wisconsin Antique Power Assoc. Grounds in Valmy
Date: 08/17/2012 - 08/19/2012
DETAILS!

DOOR COUNTY SPORTS & CLASSICS CAR SHOW
Location: Egg Harbor
Date: 08/18/2012
DETAILS!

TASTE OF EGG HARBOR
Location: Egg Harbor
Date: 08/24/2012
DETAILS!

MIDSUMMER'S MUSIC FESTIVAL CONCERTS
Location: Unitarian Universalist Fellowship in Ephraim
Date: 08/29/2012
Location: Sister Bay Moravian Church
Date: 08/30/2012
Location: St. Lukes Episcopal Church in Sister Bay
Date: 08/31/2012
DETAILS!