TRADITIONAL NEW ENGLAND BARN DANCE
Thursday, October 17, 2013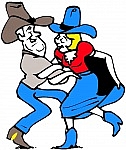 TRADITIONAL NEW ENGLAND CONTRA (BARN) DANCE
Location: Institute Saloon in Institute
Dates: 10/19/13

7-9:30pm.

Traditional New England Contra (Barn) Dance. Live music by Sugar on the Floor. Caller is Tim Jenkins. Donations accepted at the door. This is our annual Cy Rosenthal fundraiser. Open to the public. Alcohol-free. Singles welcome. No experience or partners needed. All dances taught by caller. For more information email dcfolkalliance@gmail.com.