DOOR COUNTY CENTURY RIDE!
Friday, September 07, 2012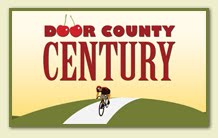 DOOR COUNTY CENTURY RIDE

COUNTY-WIDE IN DOOR COUNTY

ON

SEPTEMBER 9, 2012
The Door County Century began in 1979 and is one of the most popular rides in Wisconsin! More than 2,000 people take part each year. The ride begins and ends at the Door County Fairgrounds in Sturgeon Bay. There are different routes to choose from...28 miles, 50 miles (Half Century), 70 miles and 100 miles (Century)...each progressing farther up the peninsula and riders enjoy fabulous Door County scenery! DETAILS!