Egg Harbor Receives Environmental Award!
Tuesday, December 06, 2011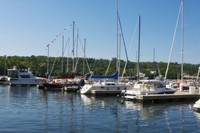 THE VILLAGE OF EGG HARBOR'S MUNICPAL MARINA RECEIVES THE WISCONSIN CLEAN MARINA AWARD!
The Door County Advocate recently reported that the Village of Egg Harbor's municipal marina will be honored by the Wisconsin Marina Association with the Wisconsin Clean Marina Award! This award was developed through the University of Wisconsin's Sea Grant Program. According to Peter Devlin's article in the Advocate, the Village earned the award, in part, due to the management of storm water runoff into the bay of Green Bay, recycling and prohibiting boat maintenance in the marina. I just want to say, THANK YOU to the Village officials who diligently worked on providing us with an environmental award winning, yet beautiful Village marina!