MARINA DAYS CELEBRATION IN EGG HARBOR!
Friday, August 09, 2013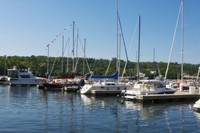 MARINA DAYS CELEBRATION
Location: Egg Harbor Marina in Egg Harbor
Dates: August 10, 2013

10am-3pm. Enjoy the Egg Harbor's beautiful waterfront and views. Partake in sailboat rides and then relax watching the festive regatta! There will be great food and music, plus a boaters' open house and more! DETAILS!