Monday, February 27, 2012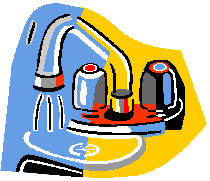 Why should I test my well ?
As one of Wisconsin's 900,000 private well owners or private well water consumers, you probably use ground water for doing your family's laundry, drinking, cooking, bathing and watering your garden. Municipalities are required to test their water supplies regularly to ensure the water is safe to drink. Since there is no requirement to test a private well except for bacteria when it is first drilled or the pump is changed, you are responsible for making sure your water is safe.
Most private wells provide a clean, safe supply of water ; however, contaminants can pollute private wells, and unfortunately you cannot see, smell, or taste most of them. Consequently, you should test your water on a regular basis. The decision on what to test your water for should be based on the types of land uses near your well.
There are many tests that can be performed. The most common tests in the Door County area are Coliform Bacteria, E-coli Bacteria, Lead, Arsenic and Nitrate. It is very important to realize that comprehensive water testing once a year should be as important as changing the batteries in your smoke detector. Here is a little known fact. In 1994 a Wisconsin survey found 23% of all wells tested were positive for Coliform Bacteria and 2.4% tested positive for E.coli. This survey was statewide.
Keep your water safe. Maintain your well and pressure system as you would any other part of your home and property. There is nothing more important than safe drinking water. Lots of questions ? If you or have questions, feel free to contact me. I can answer most of the questions. Further, I can make site visits to advise home owners on how to feel confident that they have a system that is compliant and operating correctly.
Robert Larsen
Master Plumber 226224
DNR. Licensed Pump Installer 4328
I would like to acknowledge the Wisconsin DNR. Bureau of Drinking and Groundwater for contributing to this blog.
Robert Larsen is one of my recommended vendors. For more information on well water testing, septic testing or any plumbing issues, you can contact Robert at:

Englebert Larsen Plumbing and Pump Service
920.743.4261 - 920.868.2488
[email protected]